Curriculum
Rillington's 'themed' curriculum is based around the National Curriculum and is driven by imagination. Activities and units of work are designed to let students explore and escape from the ordinary and to project themselves into invented, unfamiliar or fictional experiences. It gives children a chance to be creative, express ideas in new ways and to make real things for real audiences and purposes.
Overview
The national curriculum is a set of subjects and standards used by primary and secondary schools so children learn the same things. It covers what subjects are taught and the standards children should reach in each subject.
Follow this link to the Department of Education website.
Please use the links below to find out what our children will be taught.
Art and Design
At Rillington Primary School we believe that artistic study is a vital part of every child's education; stimulating creativity, imagination and a unique way of responding to the world. Picasso once said that: 'every child is an artist'. Here at Rillington, every child is encouraged to express themselves, to be adventurous, to take risks, to communicate opinions and get their hands dirty whilst experiencing the joy of artistic pursuit! In our school, art is incorporated into every sphere of learning. Children value and respect their own work and that of others, discovering that art can be created by all sorts of people in many different ways.
We want the children of Rillington to remain bold, fearless and without prejudice in their creative endeavours, ensuring that every one of them holds onto the innate creativity with which they were born.
Click here to view our Art & Design Policy
Design and Technology
Rillington's DT curriculum is driven by the need for all of our students to be future-ready in a World where Scientific and Technological innovations are increasingly important. DT at Rillington will bridge gender and ethnic gaps sometimes found in Science and Maths by teaching exciting, practical and creative lessons both for work in school and at home.
We are determined to inspire in our pupils a thirst to explore, to plan and utilise skills that are pertinent to the real World.
English
English at Rillington CP School
In the teaching of phonics and reading at Rillington CP School, children starting in Early Years Foundation Stage, follow the 'Letters and Sounds' phonics programme. This programme continues throughout KS1. All Literacy is founded on the ability to read well. We operate a phased, decodable reading system using a variety of different schemes based on Letters and Sounds.
We firmly believe that reading should be an enjoyable experience. In Early Years we develop our first partnerships with parents and other adults – we want children to see that reading isn't just something that happens at school, but is part of everyday life. In school, we provide a rich collection of books and reading resources. Children read in a variety of ways, exclusively as individuals, as part of a group or whole class and then as confidence increases as independent readers. At all stages we ensure children bring their books home. We also access public libraries as a great place for children to widen their reading experience.
Mrs McCulloch Bedtime Story
Phonics
Welcome to the Phonics room!
Here we hope you will find everything you need to know about how the children at Rillington Primary School are learning to read, Mrs Stabler is our reading Lead, so please feel free to see her at any time.
The ability to read is within the reach of every child. The most direct route to reading for children is through systematically taught, 'synthetic phonics'. At Rillington Primary School we insist on a 'phonics first' approach to reading, where children learn to decode (read) and encode (spell) printed words quickly and fluently by blending and segmenting letter sounds. Our teaching and learning follows the progression of 'Letters and Sounds', organised into 6 phases and is in line with the expectations of the National Curriculum.
We support the children's application of phonics to their reading by using phonetically decodable reading books both in school and at home. Once children are able to read with fluency and apply their knowledge of all the letter/sound patterns taught then the children read a wider range of literature. Children who are just beginning to learn the letter/sound correspondences are learning at the same time to tell stories using books which do not have words to begin with. This is crucial in the development of spoken language and vocabulary. It is a necessary stepping stone towards becoming an accomplished reader and writer.
Click here to view the Phonics Policy
Below is a link to an excellent video which explains clearly and simply how to support your children in learning to read with phonics. The website (parent section) has lots of advice in the form of video and animation and also you can access lots of free ebooks to help with reading at home!
https://www.oxfordowl.co.uk/for-home/advice-for-parents/phonics-videos/
Writing
Speaking
Listening
History
Click here to view our History policy
Home Learning – Counting with Cheerios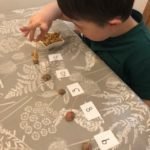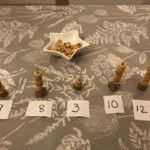 "Mathematics is a creative and highly inter-connected discipline that has been developed over centuries, providing the solution to some of history's most intriguing problems. It is essential to everyday life, critical to science, technology and engineering, and necessary for financial literacy and most forms of employment. A high-quality mathematics education therefore provides a foundation for understanding the world, the ability to reason mathematically, an appreciation of the beauty and power of mathematics, and a sense of enjoyment and curiosity about the subject." (DfE 2013)
At Rillington we want every child to be successful, fluent mathematicians and individuals who can apply these skills into problem solving and reasoning situations. We want the children to see mathematics as being relevant to their world and applicable to everyday life as well as being something that they will need as they move on through their school life; ultimately to the world of employment. To that end, a high-quality, inter-related and creative mathematics experience should be one that develops the children's ability to think mathematically and one which allows them to apply the tools to which they have been exposed in a variety of ways.
Modern Foreign Languages
Learning a foreign language is a necessary part of being a member of a multi-cultural society and provides an opening to other cultures. A high-quality language education should foster children's curiosity and deepen their understanding of the world. The teaching should enable children to express their ideas and thoughts in another language and to understand and respond to its speakers, both in speech and in writing. It should also provide opportunities for them to communicate for practical purposes, learn new ways of thinking and read great literature in the original language. Language teaching should provide the foundation for learning further languages, equipping children to study and work in other countries.
The National Curriculum for languages aims to ensure that all pupils:
Understand and respond to spoken and written language from a variety of authentic sources
Speak with increasing confidence, fluency and spontaneity, finding ways of communicating what they want to say, including through discussion and asking questions, and continually improving the accuracy of their pronunciation and intonation
Can write at varying length, for different purposes and audiences, using the variety of grammatical structures that they have learnt
Discover and develop an appreciation of a range of writing in the language studied.
Music
The National Curriculum for music aims to ensure that all pupils:
Perform, listen to, review and evaluate music

Be taught to sing, create and compose music

Understand and explore how music is created, produced and communicated.
At Rillington Community Primary School the intention is that children gain a firm understanding of what music is through listening, singing, playing, evaluating, analysing, and composing across a wide variety of historical periods, styles, traditions, and musical genres. Our objective is to develop a curiosity for the subject, as well as an understanding and acceptance of the validity and importance of all types of music, and an unbiased respect for the role that music may wish to be expressed in any person's life. We are committed to ensuring children understand the value and importance of music in the wider community, and are able to use their musical skills, knowledge, and experiences to involve themselves in music, in a variety of different contexts.
Personal ,Social, Health, & Citizenship Education (PSHCE)
PSHCE Vision
In PSHCE, learning is driven by communicating, relationships and dealing with emotions. Activities and units of work are designed to explore emotional concerns and to allow pupils to understand and express what they feel in a safe and interesting environment. It is about communicating and talking with others, exploring the ways people relate to each other and understanding the importance of feelings and relationships.
At Rillington Primary School, we strive to develop the qualities and attributes all pupils need to thrive as individuals, family members and members of society.
PSHCE Priorities
Priorities for PSHCE in Rillington
The school is ready to teach the Dfe Relationship and Sex Education and Health Education learning outcomes when they become statutory from September 2020.
2. All children are taught about friendships, relationships and safety as part of SRE.
3. There is a well-planned PSHE curriculum.
4. Children's mental health and wellbeing is supported through lessons and targeted support.
5. A trained member of staff supports individuals and their families with positive mental health and wellbeing.
6. Staff health and wellbeing is a priority for leaders at Rillington Primary School.
Religious Education
Rillington's Religious Education curriculum is driven by becoming more knowledgeable and respectful of different religions and cultures. Activities and units of work are designed to build and maximise pupil's cultural capital whilst also developing a better understanding of themselves. Learning often focuses on understanding how people relate to each other within the world and developing an appreciation for differences positively.