Computing: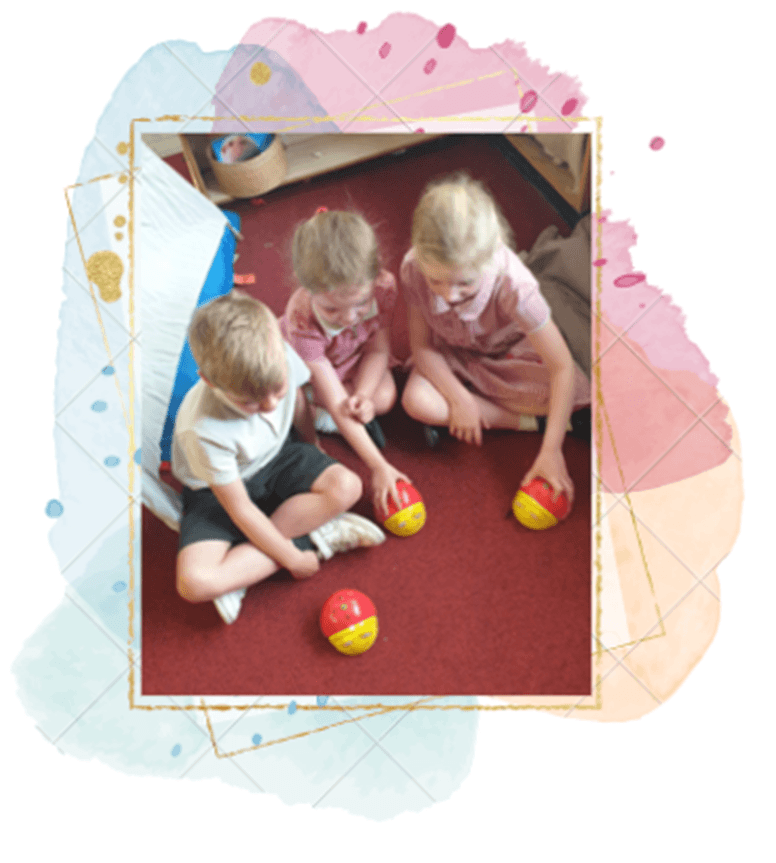 Our intent:
In computing, learning is driven by curiosity.
Activities and units of work are built around investigation, discovery, analysis and problem solving.
We guide children to recognise the importance of staying safe when using computers in school and out of school.
Our main aim is to ensure that pupils become digitally literate at a suitable level for the future workplace and as an active participant for the digital world.
Implementation:
Curriculum progression: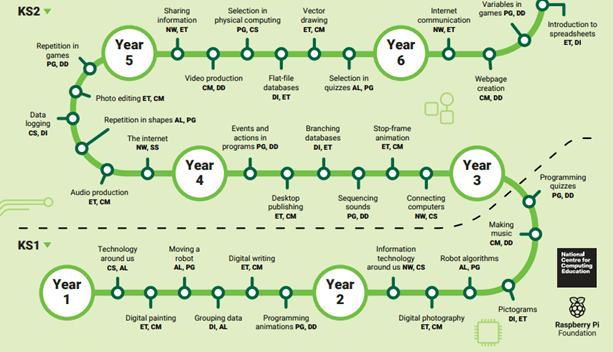 Long term plan:
Year A

2021 – 2022

2023- 2024

Autumn

Spring

Summer

Autumn 1

Autumn 2

Spring 1

Spring 2

Summer 1

Summer 2

Overall theme

Deep sea dive!

Conflict, resolution and remembrance

Incredible me!

Digging for dinosaurs.

Is there anybody out there?

How does the garden grow?

Overview of theme

Oceans, seas, rivers, the water cycles, creatures of the sea, swimming, water safety

WW1 and WW2, remembrance day, friendships,

The body including skeletons, the circulatory system, how to keep our bodies healthy, food and nutrition, digestive system, teeth, Albert Giacometti sculptures

Fossils, evolution, rocks, soils

Space, the Earth, solar system, night and day, Peter Thorpe art work

Plants, flowers, forests, deforestation, classification, recap plants, animals, mini beasts, Georgia O'Keefe art work

EYFS

Using a computer

Exploring hard wear

All about instructions

Introduction to data

Exploring hard wear

Programming beebots

KS1

Technology around us (1.1)

Digital painting (1.2)

Making a robot (1.3)

Grouping data (1.4)

Digital writing (1.5)

Programming animations (1.6)

Year 3 and 4

Connecting computers (3.1)

Stop frame animation (3.2)

Sequencing sounds (3.3)

Branching databases (3.4)

Desktop publishing (3.5)

Events and actions in programmes (3.6)

Year 5 and 6

Sharing information (5.1)

Video production (5.2)

Selection in physical computing (5.3)

Flat file databases (5.4)

Vector drawing (5.5)

Selection in quizzes (5.6)
Year B

2022 – 2023

2024- 2025

Autumn

Spring

Summer

Autumn 1

Autumn 2

Spring 1

Spring 2

Summer 1

Summer 2

Overall theme

Raid, invade and stayed.

Fire and ice.

Somewhere to settle…

Who let the God's out?

Did you see and hear that?

Light it up – lighthouses

Overview of theme

Vikings and Anglo-Saxons, Romans

Forces, magnets, weather, natural disasters,

Settlements, local geography, physical geography, materials

Special buildings, religions, Gods, Ancient Greece, Ancient Egypt, structures, levers/pullies, Ancient Egyptian paintings, Greek pottery designs/clay

Light, shadow, how we see things, the eye, senses, sound, how we hear sounds.

Electricity, circuits, electrical safety, construction, making models, lighthouses, water safety, RNLI, pullies and levers

EYFS

Using a computer

Exploring hard wear

All about instructions

Introduction to data

Exploring hard wear

Programming beebots

KS1

Information technology around us (2.1)

Digital photography (2.2)

Robot algorithms (2.3)

Pictograms (2.4)

Making music (2.5)

Programming quizzes (2.6)

Year 3 and 4

The internet (4.1)

Audio productions (4.2)

Repetitions in shapes (4.3)

Data logging (4.4)

Photo editing (4.5)

Repetition in games (4.6)

Year 5 and 6

Internet communication (6.1)

Webpage creation (6.2)

Variables in games (6.3)

Introduction to spreadsheets (6.4)

3D modelling (6.5)

Sensing (6.6)